Classic Ibiza
— Saturday 6th July 2024 —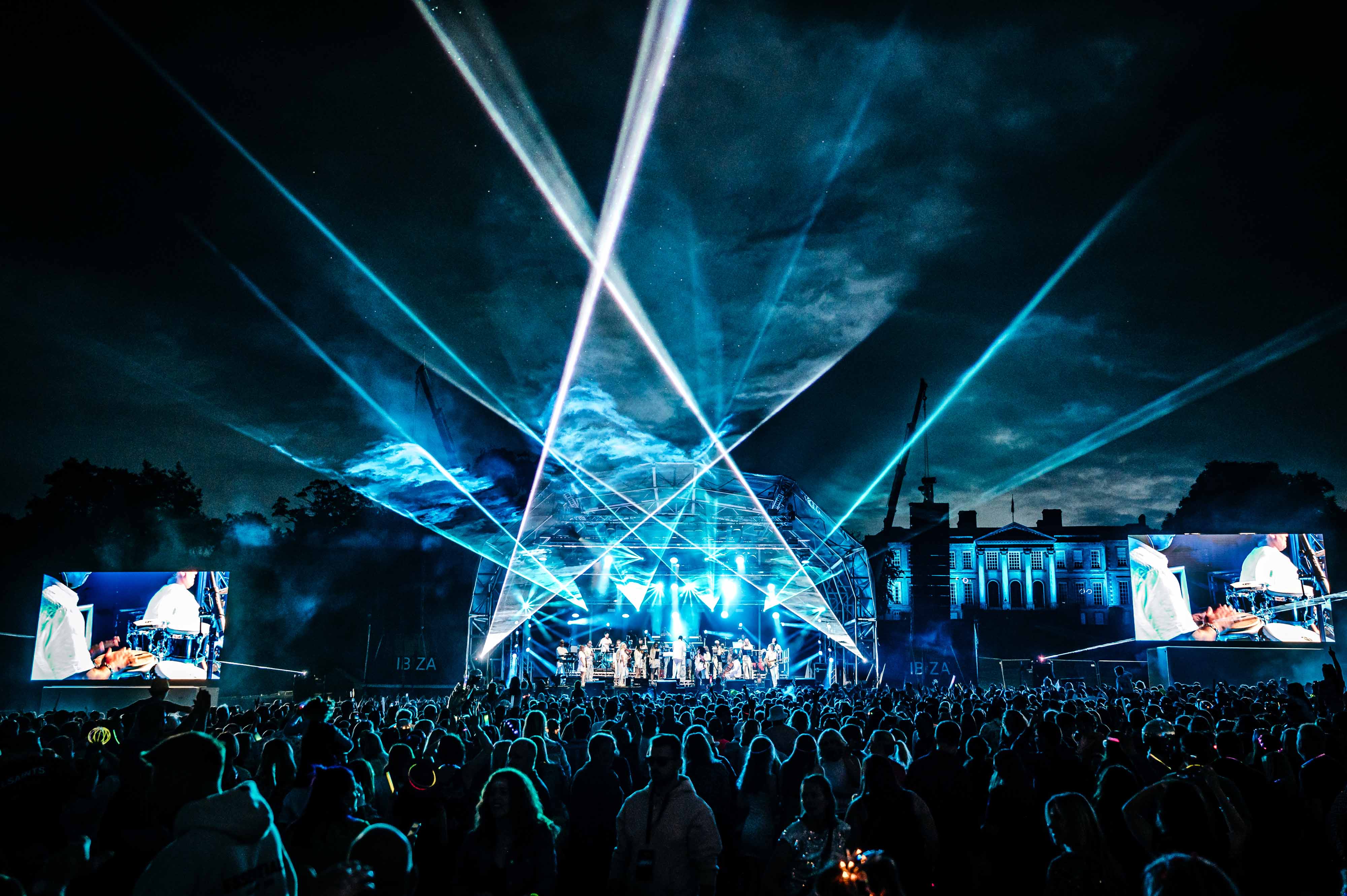 An open-air celebration of White Isle-inspired house music, reinvented by a 32-pieceorchestra, headline DJs and live vocalists. Touring some of the UK's most stunning stately homes, this isn't just house music – this is stately house music.
Event details (subject to change)
5:30pm | Car parks and gates open
Enjoy our chill-out DJ set while you set-up your picnic
6:30pm | Afro/Latin DJ Set with Jose Luis
Spinning iconic house with a distinct Afro/Latin vibe
8:00pm | Sundowner Set with Urban Soul Orchestra
Playing Ibiza sunset tracks
9:00pm | Deep House DJ Set with Goldierocks
A mix of classic and current Ibiza anthems
9:30pm | Dance Set with Urban Soul Orchestra
Featuring huge Ibiza tracks and our amazing Laser Light Show
11:00pm | Concert finishes
£49.50 per adult
£25.00 per child (aged 5-17) Under 5's go free
Classic Ibiza promises a night of wholesome euphoria, drawing in a diverse crowd of partygoers that all contribute to the feel-good atmosphere. Designed for people of all ages, it's an opportunity for generations to come together and enjoy iconic music in a stunning location. Headlining the event is the 32-piece Urban Soul Orchestra (USO), known for their work alongside dance music greats like Groove Armada, Robert Miles and Nightmares On Wax.
On arrival, you and your loved ones can choose from the dedicated picnic squares, marked out across the site. This will be your own private space to spread out, set up and boogie, until you're ready to hit the dance circle. Your spot can be as elaborate as you'd like; tables, chairs, picnics, inflatables – whatever floats your boat! Bring your own food and drink (with some limits to alcohol) or visit the bar and array of street food vendors to keep you fuelled for the party.
If you are wondering what to expect, the general rule is that the BPM goes up as the sun goes down. With the help of the 'Chill-out DJ set', the evening starts with the vibe of an Ibiza chill- out bar, easing you into the evening ahead. Then, when Jose Luis takes control of the decks for his 'Afro/Latin DJ Set', the ante is upped by a mix of old-school house with an Afro/Latin flavour. Towards the end, you can even expect a live jamming session with some members of USO.
The Urban Soul Orchestra, vocalists and Goldierocks will then take to the stage for the 'Sundowner set', which includes a feast of dance music's rich play-list. Expect tracks from the likes of Moby, Massive Attack, Paul van Dyk and many more. While USO take a well-earned break, Goldierocks builds the rhythm further with her 'Deep House DJ set', packed full of classic and current Ibiza anthems. As night falls and USO return for the 'Dance Set', the grounds of Ragley Hall will be transformed into an alfresco night club. Expect lights, lasers and big tracks from the likes of Faithless, Armand Van Helden and Avicii.
If you're looking for an opportunity to dance the night away and sing along to all your favourite dance anthems, head to the Classic Ibiza website to secure your tickets. Booking terms and conditions can be found here. (https://www.classicibiza.co.uk/terms-conditions)